World Wide Fund for Nature (WWF) issue warning on Mekong's biodiversity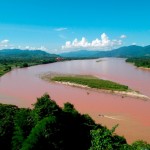 Scientists say the Southeast Asia's rapid development is driving deforestation in the vital Mekong Subregion, and threatening scores of species in one of the world's most bio-diverse ecosystems. Trafficking in plant and animal wildlife is accelerating the trend, and governments are being pressed to do more to stop it.
In almost two decades, scientists researching biodiversity in the Greater Mekong Sub-region have uncovered over 2,200 new species: from giant flying squirrels, to fish and even eyeless cave dwelling spiders. From 2012 to 2013, more than 360 new species were discovered and cataloged.
Scientists said decades of economic development, hydro-power-dam construction, lax law enforcement and trafficking have taken their toll.