Open Development Vietnam publishes a page on Disaster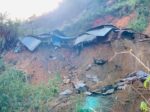 Open Development Vietnam recently published a page on Disaster, showing impacts of disasters on people living in poverty.
Vietnam is one of the most disaster-prone countries in the world. S-shaped with a 3,440 km coastline, its unique geographic location in the monsoon belt of Southeast Asia and diverse topography means that Vietnam suffers from many different types of natural hazards, including typhoons, tropical storms, floods, drought, salt water intrusion, landslides, and forest fires. More than 70% of Vietnam's population is at risk from natural hazards, particularly the rural and urban poor.