CALL FOR APPLICATIONS: ASEAN Water Platform 2019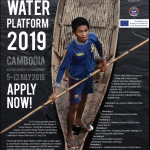 Date: July 5th-13th, 2019
Venue: National University of Management (NUM), Phnom Penh, Cambodia
RCSD invites graduate students (Master's and PhD) from the Faculty of Social Sciences, Chiang Mai University to participate in the ASEAN Water Platform and workshop, organized and held atNational University of Management, Cambodia in Phnom Penh from 5-13 July 2019.
The first goal of the Annual ASEAN Water Platform (AWP) is to build capacity in research on water natural resource management (WNRM) within the partner countries' institutions, by means of gathering researchers from different backgrounds for multidisciplinary methodological approaches related to the analysis of WNRM sector.
The second objective is to disseminate knowledge on WNRM and enhance collaboration between the participants. The platform must be able to increase the research collaboration between participants and to set the basis future long-term partnership between the representatives of different institutions in EU and in ASEAN. Then, the institutions partners must be able to set up and run projects of bigger international scale.
This year, NUM will hold a Summer School of both Erasmus+ Capacity-building projects coordinated by University of Nantes, named DOCKSIDE and WANASEA, with the participation of more than 100 Asian young researchers and Europeans visiting scholars. In addition, a number of places will be given to candidates outside WANASEA consortium, mainly from Vietnam, Laos and Myanmar, thanks to co-fundings from AUF, IRD and University of Nantes.
AWP 2019 PLENARY SESSIONS will be on July 5th-6th, 2019, followed with 5 tracking workshops:
Workshop 1: Transboundary River Management and Water Governance
Workshop 2: Development of Maritime Policy in ASEAN and comparison with EU
Workshop 3: Water Urban Risks: Designing Evacuation Strategies in Case of Flooding with Agent-Based Modeling and GAMA
Workshop 4: Non-Conventional Water Resources: Wastewater Reclamation and Reuse
Workshop 5: Field Research – Qualitative Methodologies in Social Science
For those who feel interested in the AWP 2019, download application form or visit the website.