Call for applications: SUMERNET grants for media-research partnerships for environmental reporting (Apr-Nov 2021)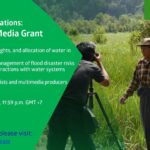 Sustainable Mekong Research Network (SUMERNET) is providing eight grants worth up to US$2,800 to selected journalists in the Mekong Region for environmental reporting during April to November 2021.
These grants are intended for media to partner with SUMERNET researchers to produce and publish impactful stories that highlight critical environmental sustainability issues related to SUMERNET research projects, while enhancing the capacity of SUMERNET researchers in communicating their research to the public.
The application deadline is Sunday 23 May 2021, 23:59 (Bangkok local time).