Call for Proposals: Asia-Pacific Health-Related Climate Change Story Grants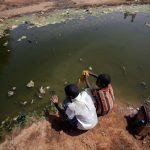 INTERNEWS' Earth Journalism Network (EJN) is offering grants to journalists in the Asia-Pacific region to support data-driven, investigative reporting on the health impacts of climate and environmental change.
The deadline is June 30, 2019 at 5pm IST. Contact info.ejn@internews.org with any questions.
The more we learn about the impacts of climate change, the more we understand how it is affecting all aspects of society, including human health and well-being.
Having access to clean air and water, secure shelter and sufficient food are the basic needs of life. But rising sea levels and global temperatures and increasingly extreme and unpredictable weather that threatens water supplies and food production, heighten the risk of infectious diseases, malnourishment, respiratory and heat-related illnesses and even mental health.