IFF Community Empowerment Program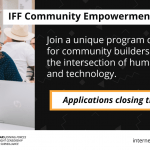 Application closes Friday, September 6, 2019 at 9 PM EST!
At the IFF, we believe that the internet is a community of communities. As these communities grow, so does their demand for community development capacity and resources. Connecting and empowering diverse and inclusive communities is a fundamental aspect for the defense and promotion of internet freedom globally. However, most of the people who are building and engaging communities at the intersection of human rights and tech don't have access to resources to improve their community-building skill set.
The program will bring together a diverse cohort of 10 passionate community organizers from the internet freedom space, enhancing their skills in community building, secure organizing, physical/digital security training and facilitation, among others. The cohort will also play a key role in the IFF by reviewing and curating the IFF 2020 agenda. In addition, the CEP program will assist the cohort in obtaining resources to kick-start or grow their own community empowerment projects, and will provide exposure to strengthen and create ties between their local communities and other groups around the world.
The main activities for CEP participants will be: training and skill development through the length of the program; participating in the Community Empowerment Summit; developing/kick-starting a community empowerment project; performing community outreach for and curating the 2020 IFF program; and participating and presenting at the 2020 IFF.