Launching the Land Governance Thesaurus LandVoc 2.0: Keeping Data Out of Lockdown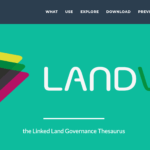 In these difficult times, access to accurate and timely information has become an essential service and it is our collective responsibility to make sure that information is kept out of lockdown. A controlled vocabulary and linking tool, LandVoc encourages the transparency and accountability that our lives and livelihoods are dependent on.
What is LandVoc?
LandVoc is a land governance thesaurus consisting of 310 concepts, which are translated into multiple languages. Once LandVoc is adopted, pieces of information are classified and tagged according to concepts within the thesaurus. LandVoc then works as a linking tool. Properly tagged and classified pieces of content are bridged to thousands of other related pieces of information, in a variety of languages from all over the world!