The 6th Asia Young Leaders for Democracy Program: Enhance the Resilience of Democracy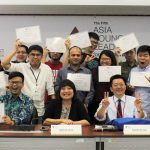 In 2014, the Taiwan Foundation for Democracy (TFD) established the Asia Young Leaders for Democracy program (AYLD), aiming at strengthening democracy in Asia through young people's collaborations. Each year, young practitioners advocating for democracy or human rights across the countries in Asia are selected to participate in the AYLD which empowers them through lectures, discussions, and site visits. Over the past 5 years, the AYLD has empowered nearly 100 young leaders with experience and knowledge from international NGOs or the academic field, and has built up a network of young people in Asia to encourage cooperation for consolidating democracy and human rights. In 2017, the AYLD participants passed the 2017 Asia Young Leaders Declaration, declaring young leaders' determination to fight against democratic regression, and identifying the urgent challenges of democracy. In order to address these challenges, in 2018, the AYLD participants proposed various creative action plans.
The 6th AYLD will be held at the TFD headquarters in Taipei, Taiwan during August 20th-26th, 2019.
Should you have any questions, please e-mail ayld@tfd.org.tw or visit the webpage to learn more about qualification and download the application form. Applications must be received by e-mail before April 30th.