After slavery, trafficked fishermen face lonely road to recovery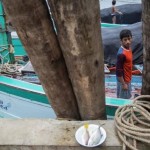 Hundreds of fishermen were rescued from slavery on Thai fishing boats off the coast of Indonesia earlier this year. Trafficked and sold to work on the boats, the men – mostly from Myanmar and Cambodia – had endured beatings, abuse and torture.
After they were freed, however, they had little support to help them recover from the horrors they had experienced.
Governments and donors mostly fund support for women and girls trafficked for sex, but there is little money for male trafficking survivors, many of whom have suffered and witnessed extreme violence.