Bird flu outbreak in Monywa leads to poultry transport ban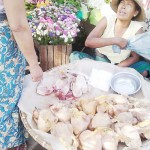 After tens of thousands of chickens had to be killed due to an outbreak of bird flu in Monywa, officials are now preventing transportation of poultry and poultry products outside of the affected area.
U Kyi Lwin Oo, deputy chair of the Sagaing Region Livestock Federation, said security had been increased to prevent the disease from spreading.
"Currently, over 40,000 chickens from the affected zone have been killed. Bio security has been increased and poultry and poultry products are prevented from being transported outside of the area," he said.