Independent bar association aims to usher in new era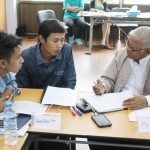 Myanmar's legal profession is aiming to come clean. Lawyers have launched the industry's first independent, national bar association in Myanmar with the help of a London-based human rights training group and the rule of law committee.
The Independent Lawyers' Association of Myanmar was launched in Nay Pyi Taw on 19 January with 5000 inaugural members. The association aims to promote access to justice and battle a long-entrenched culture of bribery and corruption. The judiciary has long been perceived as one of the most debauched pillars of governance in the country. The World Justice Project rated Myanmar 91st-worst out of 102 countries in its annual Rule of Law Index last year.