Lao satellite to open for business next month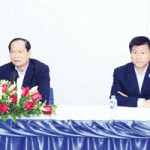 Laos' first telecommunications satellite (Lao Sat-1) will officially start business operations in March after successfully launching late last year and is keen to sign up government and private sector customers.
Lao Sat-1 officials met in Vientiane on 23 February to introduce the satellite to potential government and private sector clients. In attendance were Minister of Posts and Telecommunications Mr Hiem Phommachanh, General Manager of the Lao Asia-Pacific Satellite Co., Ltd. Mr Ding Yongbing, and other government and private sector officials.