Loans to fight LGBT poverty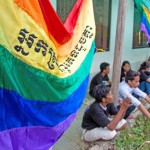 LGBT Cambodians driven into poverty by discrimination, and sometimes forced to sell sex to survive, may soon enjoy the benefits of a new online campaign designed to raise money to help them rebuild their lives.
Micro Rainbow International, a non-profit organisation aimed at lifting LGBT Cambodians out of poverty, unveiled a new crowd-sourcing platform on 17 October that will allow donors from all over the globe to directly support individuals in the form of interest-free loans.
The organisation targets vulnerable LGBT people in Cambodia by running workshops at events such as Gay Pride in Phnom Penh.