Mass infection in pigs sparks fears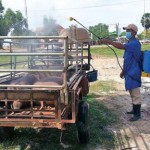 A new breakout of Porcine Reproductive and Respiratory Syndrome (PRRS) has taken the lives of more than 1,200 pigs while infecting some 3,200 more in three districts across Siem Reap since mid-August, a new report by the province's Agriculture Department says.
Officials, meanwhile, are attempting to stem the spread of the disease by disinfecting pig farms and transportation vehicles.
Prum Vich, an animal health and production chief at the Agriculture Department, said that the outbreak started on 14 August.