Cambodia's mining tax likely won't budge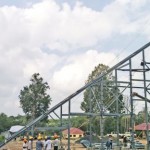 Cambodia's new mining law is on track for adoption by the end of this year and will introduce a raft of reforms to the sector, a senior official said, although the country's mining tax will likely remain the same.
Meng Saktheara, secretary of state at the Ministry of Mines and Energy, told the Post last year that the ministry may consider reducing Cambodia's tax on mineral resources profits from 30 to 20 per cent, inspired by a scrapped Australian mining law.
However, Saktheara has since said that as the law approaches adoption, "it's likely the 30 per cent rate will remain".