Rules passed for derivatives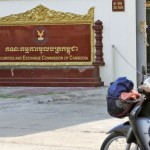 Cambodia has moved to formalise its ill-regulated derivatives sector by launching a key regulation earlier this month.
On July 2, the Securities and Exchange Commission of Cambodia (SECC) approved the prakas on the "Licensing and Supervision of Derivative Trading". The prakas regulates the sector by allowing individuals or firms to apply for official broker licences, bringing the practice under the law.
Derivatives will not be exchange-traded on Cambodia's bourse, but through brokers, who must comply with several regulations if they receive a licence.