State-owned telecom slashes landline fees as users go mobile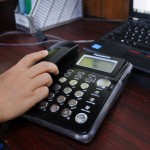 Burma's state-owned Myanmar Posts and Telecommunications (MPT) on 15 July halved the price of landline phone installation after years of wringing the country's monopolized communications market.
The fixed phone rate has been pinned at a staggering 650,000 kyat (US$565) rate for more than a decade. Twenty years ago, the rate was as high as three million kyats on the flourishing informal market. The new official rate brings initial fees down to 325,000 kyats.
MPT said in a statement that it aims to target retailers and other businesses, many of which will need fixed line service for ADSL Internet connections.