Two hurt in "land grab" incident at Vietnam-S'pore industrial park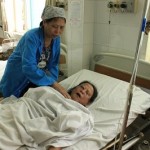 Vietnamese news have reported that two persons, including a 54-year old woman, have been injured in what is described as an anti-land grab protest on 10 July at a Vietnam-Singapore industrial park.
The 150-hectare park is a collaboration between Singapore's Government-linked Sembcorp Development and Vietnam's Becamex IDC.
A video posted online showed the woman, Le Thi Cham, being pinned underneath a bulldozer while others tried to ask the driver of the vehicle to stop.