Urban areas in Mekong Delta face serious flooding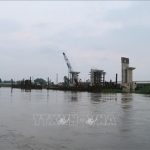 High tides, dykes and land subsidence are causing serious flooding in urban areas in the Cửu Long (Mekong) Delta region, according to Nguyễn Hữu Thiện, an expert on the Delta's ecosystem.
Thiện told Thanh Niên (Young People) newspaper that excessive exploitation of groundwater had contributed to severe subsidence in the Delta.
More than one million wells have been dug since the 1980s, and many dykes have been built along most of the Delta's rivers and canals.
"A huge amount of water cannot be discharged to fields or ponds. As a result, flooding occurs in urban areas," Thiện said.
Research by Utrecht University in the Netherlands published in 2017 showed that the average land subsidence rate in the Mekong Delta is 1.1cm every 12 months. In some places, it has reached 2.5cm per year.
By 2050, the land subsidence rate is expected to reach 35-140cm per year, while the sea level could rise 10cm per year.