Water shortage a looming crisis for Viet Nam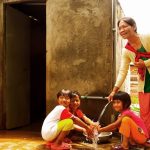 According to experts at a forum on water resource management yesterday, Việt Nam is facing a severe water crisis.
In a report by the International Water Association, a country with inland surface water output of less than 4,000 cu.m per head per annum can be considered as lacking water.
Việt Nam has an average surface water volume of about 830 billion cubic metres per year, but two thirds of that figure comes from other countries. With a population of over 90 million, each Vietnamese citizen receives only 3,370 cu.m of water per year.
Highlighting the importance of water resources and the role of civil societies in water resource management at a forum held yesterday, experts raised concerns on issues related to water resource reduction, water pollution, misuse and mismanagement.