2020 United Nations E-Government Survey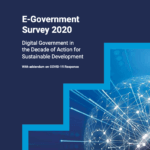 As the COVID-19 pandemic forces lockdowns, most countries and municipalities are pursuing digital government strategies, many with innovative initiatives – but vast numbers of people still do not have access to online services, according to the 2020 edition of the United Nations E‑Government Survey, released today.
The 2020 ranking of the 193 UN Member States in terms of digital government – capturing the scope and quality of online services, status of telecommunication infrastructure and existing human capacity – is led by Denmark, the Republic of Korea, and Estonia, followed by Finland, Australia, Sweden, the United Kingdom, New Zealand, the United States of America, the Netherlands, Singapore, Iceland, Norway and Japan.
Among the least developed countries, Bhutan, Bangladesh and Cambodia have become leaders in digital government development, advancing from the middle to the high E-Government Development Index (EGDI) group in 2020. Mauritius, the Seychelles, and South Africa are leading the e-government ranking in Africa. Overall, 65 per cent of Member States are at the high or very high EGDI level.
"The pandemic has renewed and anchored the role of digital government – both in its conventional delivery of digital services as well as new innovative efforts in managing the crisis," said Mr. Liu Zhenmin, UN Under‑Secretary-General for Economic and Social Affairs.
In responding to the health emergency, governments have put in place new tools, such as dedicated COVID-19 information portals, hackathons, e-services for supply of medical goods, virtual medical appointments, self-diagnosis apps and e-permits for curfews. Many countries were quick to deploy tracking and tracing apps, and apps for working and learning from home.