Call for Applicants: Empowering young people in the green economy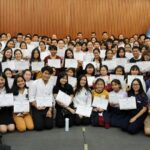 UNESCO and UNICEF are embarking on a regional study to explore how young people can get ready for green economies, how they can participate as environmental leaders, and how they can prepare themselves to access green jobs.
We are seeking expressions of interest from organizations and youth groups who may have experience or case studies to share about any of the following topics:
Youth / youth-focused organizations involved in empowering youth environmental leaders
Youth / youth-focused organizations involved in peer learning for environmental action or green jobs
Youth / youth-focused organizations implementing green jobs projects
Teachers providing school-based experiences to promote skills for green jobs
Employers providing youth with opportunities to work in green jobs
Selected applicants will be invited to join us to share their experiences with us in Bangkok at an interactive two-day event from December 13-14, 2019, which will include:
Presenting your initiative to UNESCO and UNICEF staff members
Being a panellist at a technical-level ASEAN meeting
Meet and network with other young leaders from the region
Make recommendations to UNICEF and UNESCO on how young people can play a role in green economic transitions
And more!
Applications can be sent to Sue Vize s.vize@unesco.org and should be received no later than close of business (Bangkok time) on 20 November 2019.