Call for Proposals: Earth Journalism Network Asia-Pacific Media Grants 2021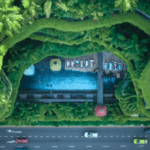 Are you a journalist network or community group seeking to improve environmental reporting amidst the COVID-19 pandemic?
Are you finding ways to help the public understand how the environmental crisis and COVID-19 are closely linked?
Do you have an innovative idea for an environmental reporting project?
Pitch your idea to win a grant!
The current COVID-19 crisis may be a preview of what's to come with climate change and environmental destruction, but it also presents a unique opportunity for green recovery and more sustainable development. And although public awareness of environmental threats is growing, there is still a massive disconnect between the scale of the problems and the actions that are being taken to address them.
In this round of media grants, we are seeking innovative ideas from journalist networks, media organizations, civil society organizations or academic institutions throughout Asia and the Pacific that would:
Enhance the impact of environmental reporting on topics including, but not limited to, climate change, pollution, biodiversity loss, wildlife trafficking, natural resources management, and large-scale infrastructure development;
Trigger conversations, analysis and policy actions around the impacts of COVID-19 on climate change, biodiversity loss, air pollution and other environmental issues;
Strengthen partnerships and networks for environmental reporting, especially for transboundary media collaboration;
Help organizations ramp up capacity-building activities online in order to improve environmental reporting under the current pandemic-related constraints.
This round of grants is awarded as part of the Earth Journalism Network's Asia-Pacific project, which aims to boost the quantity and quality of environmental and climate coverage in the region and empower at-risk communities by informing them about environmental issues and amplifying their voices in the media. This project has received generous financial support from the Swedish International Development Cooperation Agency (Sida).
How to Apply
Fill in the online application form by clicking the "Apply Now" button located on the top right of the page.
If you have an existing account, you'll need to log in. If not, you will need to create an account by clicking "Join the Network" on the top right of the page.
If you start the application and want to come back and complete it later you can click "Save Draft." To return to your draft, you'll need to go back to the opportunity and click "Apply Now" again to finalize the application.
All applicants are required to submit a budget with the application form. Please download this template now and use it to build your project budget.
If you encounter difficulties with submitting your application or have questions about the grants, please email info.ejn@internews.org.
DEADLINE: 15 August 2020 @5pm ICT