Lao faculty, partners hatch online poultry seminar for next month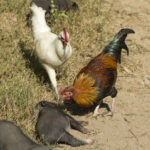 The Faculty of Agriculture at the National University of Laos in collaboration with KOICA Laos Office, Good Farmer, and Milk for Lao will organise an online seminar aiming to enhance local livestock-poultry production and marketing.
The online seminar will be held on September 9 and cover the topics of poultry production, breeding development, and marketing strategies. The session will feature experienced local experts such as Dean of the Faculty of Agriculture, Assoc. Prof. Fongsamouth Southammavong, National Agriculture and Forestry Research Institute representative, Mr Souksamlarn Khamphoumy, and Deputy Director of Vientiane Agriculture and Forestry Department, Dr Sisavath Sinthavy.
Event organisers said the seminar would greatly assist livestock and poultry farmers, especially during the current difficult Covid-19 situation. Participants will get the opportunity to exchange and share information via the online platform with experts who will illustrate examples of successful livestock-poultry production, agricultural cooperatives and marketing in Vientiane.
The event will give farmers and interested students a thorough understanding of the real world situation so they can adapt the knowledge for their work in the field.
In addition, Korean Experts will give their perspective on opportunities and challenges for livestock producers in Laos and dealing with the current
Covid-19 pandemic. The seminar is open to farmers, entrepreneurs, researchers, students and anyone interested in discussing issues affecting agriculture, particularly livestock and poultry production.
Participants can register for free at https://forms.gle/Pwyer4mazM8nEgFU9, and staff will email back a Zoom password and other details to access the
seminar.
The online event is expected to run from 1 pm to 4.20 pm on September 9 from the Faculty of Agriculture.