Open Data for Anti-Corruption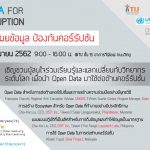 You are invited to join the Roundtable Discussion on OPEN DATA FOR ANTI-CORRUPTION, to be organized this Saturday, June 15th, 2019, during 09:00 – 16:00 hrs at Thailand Institute of Justice (TIJ), 15th Fl., Witthayu Road, Bangkok.
Let's join and exchange your opinion among experts and practitioners, including Open Development Mekong's Myanmar partner, Phandeeyar. Key takeaways will include how to use and incorporate open data to support transparency and anti-corruption.
To register for this event, scan QR Code or use the online form: https://docs.google.com/…/1FAIpQLSeCGf52dEPiiTeAE…/viewform…
Background
Thailand is faring worse in corruption and transparency, ranking 99th in Corruption Perception Index. The gravity of the situation is confirmed by a recent research that over 80% of businesses have paid illegible money to government officials, amounting to almost 300 billion baht. Open data is emerging as an important instrument to detect, prevent and fight corruption in the public and private sector. Applying open data on beneficial ownership of companies and asset declarations of public officials, for example, can be instrumental to manage conflicts of interests and useful in the investigation of corruption allegations. Similarly, having information on tender announcements and award can be an effective tool to identify and prevent conflict of interest and corruption in public procurement. Cross-referencing open datasets and innovative applications create space for citizen engagement and a democratic dialogue to promote transparency and accountability and to help detect and prevent conflict of interest and corruption in the public and private sector.