RJF Webinar Series: Global Forest Watch Resources for Journalists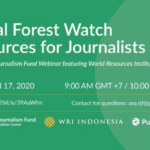 Please join the Pulitzer Center's Rainforest Journalism Fund for "Introduction to Global Forest Watch Resources for Journalists," a webinar discussing Global Forest Watch (GFW). The webinar will feature World Resources Institute (WRI) Indonesia and introduce GFW, a global forest monitoring database that uses innovative technology to help identify when, where, and why forest cover is lost.
Participants will discover tools and resources that journalists can use to tell dynamic stories about forests from the local to global scale. Participants will also get an introduction to GFW and WRI and the technology they use to track deforestation and learn about important tools and resources from the GFW platform. Finally, the webinar will also showcase concrete examples of reporting that uses GFW data or other features from around the world.
This free, 1.5-hour webinar will be hosted in English. While designed for journalists and storytellers, registration is free and open to the public.
The event begins at 9 am GMT+7 (Jakarta), April 17, 2020 or 10 pm (DC) EST, April 16, 2020.
"Introduction to Global Forest Watch Resources for Journalists" is the first in a series of webinars hosted by the Rainforest Journalism Fund, an initiative of the Pulitzer Center.
Contact: nmoragalewy@pulitzercenter.org and/or sea.rjf@pulitzercenter.org.