Cambodia's road deaths up almost 15%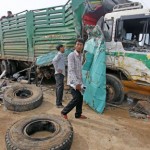 A national road safety action plan established in 2011 is severely off target and road deaths could surpass 3,200 by 2020 unless drastic action is taken, the National Road Safety Committee (NRSC) warned on 30 September.
In total, 2,226 people were killed in 4,645 recorded traffic accidents in 2014, the NRSC reported – an average of more than six deaths per day, and nearly 15 per cent more than 2013.
That statistic was published in the NRSC's Road Crash Information System Report 2014, released on 30 September.