Dengue patients overwhelm hospital for tropical diseases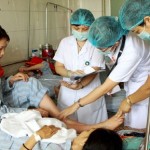 The National Hospital for Tropical Diseases is struggling to cope with a flood of dengue fever patients who insist on getting treated there, instead of local hospitals and clinics.
Dr Nguyen Trung Cap, head of the Ha Noi-based hospital's emergency department, said since the monsoon began in June, the hospital has received nearly 650 dengue patients. In September alone, there were 305 confirmed dengue cases.