Horrific state of Prey Speu revealed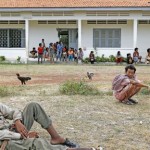 Phnom Penh's remote Prey Speu Social Affairs Centre – a de facto prison used to indefinitely incarcerate some of the capital's most vulnerable citizens – has granted unusual access to the media, coinciding with a visit from Cambodia National Rescue Party lawmaker Ke Sovannaroth.
Eighty-nine men, women and children remain imprisoned there after being rounded up from the streets as part of official efforts to "clean" the city. Their so-called crimes ranged from being homeless to being mentally ill. Many were among the 315 people arrested in preparation for late Senate president Chea Sim's recent funeral.