Hundreds infected in Yangon cholera outbreak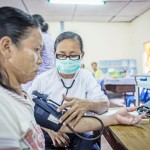 Health officials were insisting last week a cholera outbreak in Yangon's South Okkalapa township was under control, after hundreds of patients presented at an emergency clinic and Thingangyun Sanpa Hospital for treatment.
The outbreak had originally been diagnosed as gastroenteritis but Dr Tin Thit Sa, an epidemiologist with the Yangon Region health department, said testing of water samples at the National Health Laboratory had discovered coliform and Vibrio cholerae bacteria in the township's water supply.
Health authorities have already opened a 24-hour clinic to provide treatment and hospital referrals.