In meeting with Prajin, Facebook reiterates firm stand on users' privacy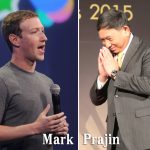 Facebook on November 17 reaffirmed its policy of protecting users' privacy in a meeting with Deputy Prime Minister Prajin Juntong. Prajin will seek to meet with Mark Zuckerberg, the Facebook founder and chief executive officer, when attending the Asia Pacific Economic Cooperation Summit in Peru this weekend. Yesterday's meeting at Government House follows an attempt by the government to get online service providers to take action against "inappropriate content" when there is a violation of local laws. Prior to yesterday's meeting, Facebook said in a statement: "We have never provided account information or content of any Facebook user to the government of Thailand, nor do we proactively monitor people's content or conversations for potential violations of local law.
"We apply a strict legal process to any government request for data or content restrictions and we list the requests we are getting and any content restrictions made in our Government Requests Report.