PM calls for action to secure sustainable development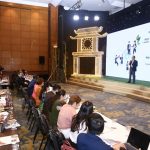 Việt Nam will take strong action to promote sustainable development, investing more in the workforce and advanced technologies, moving towards digital Government and digital society, Prime Minister Nguyễn Xuân Phúc has said.
The PM was speaking at a conference on sustainable development in Hà Nội that he chaired alongside his deputy Vũ Đức Đam on Thursday.
The conference, held by the National Council for Sustainable Development and Competitiveness Improvement, the Vietnam Chamber of Commerce and Industry (VCCI), and the World Bank, was themed 'For a Decade of More Sustainable Development', gathering about 1,000 leaders of the Government, representatives of international organisations, experts, researchers and businesses.
Phúc asked ministries, sectors and localities nationwide to encourage businesses and people to be creative and innovative to help Việt Nam boost its competitiveness in global markets.