Sacombank assists rice production, trading with loans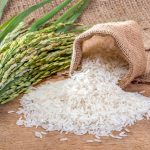 As of the end of last year outstanding loans in agricultural and rural areas around the country increased by 21.4 per cent from a year earlier, Nguyễn Quốc Hùng, director of the State Bank of Vietnam's credit department, said.
The Cửu Long (Mekong) Delta accounted for 17.2 per cent of this, he told a recent conference on "Promoting rice production and consumption in the Mekong Delta". Outstanding loans to the rice industry alone went up by VNĐ29.8 trillion to VNĐ99 trillion (US$4.3 billion).