Thailand pushes for next-generation automotive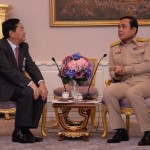 Thailand has stressed its desire to be the manufacturing hub for eco and hybrid vehicles.
During his meeting with top executives of Japanese auto makers on 7 March, Prime Minister Gen Prayut Chan-o-cha said that these cars would pave way for the manufacturing of high-technology electric and hydrogen-driven vehicles. He also stressed the Thai government's focus on low-emission vehicles as well as those that are driven by ethanol and biodiesel.