Thailand's English skills lagging, says training company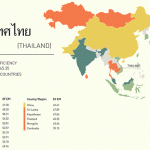 According English First's latest English proficiency index, Thailand is far behind many of its neighbours and most of the world. The index, however, is not without critics.
By far the most highly read story on the Bangkok Post website yesterday was about the release of the Education First's annual English Proficiency Index.