Call for Applications: Mekong Data Journalism Fellowship 2021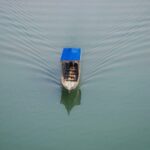 The East-West Center and Internews' Earth Journalism Network, in partnership with the Stimson Center, are jointly offering Fellowships to journalists from Mekong Basin countries that aim to strengthen their data-journalism skills and support data-driven investigations into water security challenges and solutions in the Mekong region.
The Fellowship will provide selected Fellows the opportunity to gain an increased understanding of issues related to water security along the Mekong River Basin, which covers Cambodia, Laos, Myanmar, Thailand and Vietnam. Over the course of four months, Fellows will learn how to find open-source data and use it to produce revelatory, relevant media stories that will raise awareness of water security challenges, such as hydropower plant development, and potential solutions in the Mekong region.
Selected Fellows will join a series of virtual seminars with experts in fields such as water management, attend an intensive, 80-hour data journalism training and receive one-on-one mentorship support to produce a data-driven media story they will pitch based on topics aligned with the theme of this Fellowship. Exact dates and times of the trainings and seminars will be set later according to participating journalists' schedules.
Deadline: 7 March 2021, 11:59 PM, (UTC +13)