SEI Asia Media Grants for Environmental Reporting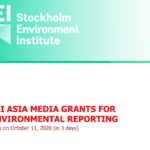 SEI Asia is providing six grants to selected local and regional journalists in Asia to showcase impactful stories that highlights critical environmental sustainability issues in the region. Each grantee will receive US$2,000 to produce and publish their proposed story.
SEI will provide mentorship and related scientific research to support the production of the stories. The proposed stories must revolve around the following areas of SEI's work:
Air quality (pollution, health, vulnerable communities)
Climate Change and DRR
Mekong region water insecurity
Bioeconomy
Urban governance (green spaces, city health)
The application deadline is 11 October 2020, 11:59 p.m. (Bangkok time).
WHO CAN APPLY?
Six grants worth US$2,000 each will be awarded to selected applicants.
Individual or a group of journalists working in print, digital, radio and television in Asia. Both freelance and staff journalists can apply.
Multimedia producers that work with photography, audio, video, and/or animation
Freelance journalists are encouraged to provide a supporting letter of intent from an outlet or organization that will disseminate their work.
The outputs can be in English and/or a local language publication (but English translations to be provided by the journalist to SEI Asia).
Preference is given to early-career, female journalists living in the Mekong Region.
**All applications will be handled with strict confidentiality.
DURATION AND GRANTS DISTRIBUTION
The duration of this grant is from October until December 2020.
On selection, the grantee will be provided with 50% of the grant amount and invited to attend a SEI media grantees webinar.
All the products need to be submitted to SEI Asia latest by 30th November 2020 for review and final approval. Since publication of the product is mandated by the grant, a link must be submitted as proof of publication of the media product along with the copy of the original article or multimedia piece. The remaining amount of the grant will be provided on SEI approval of the link and final media product by mid-December 2020.
CONTACT
For further inquiries, please contact:
Ms. Charmaine Caparas, Communications Officer, Stockholm Environment Institute (SEI)
Phone: +66 (0)2 0730040-44
Email: charmaine.caparas@sei.org