Webinar: The role of indigenous communities in reducing climate change through sustainable land use practices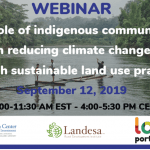 The climate crisis demands urgent action, yet we live in a politically polarized and paralyzed world. As governments and other actors struggle over climate change, our environment is irreversibly changing. A United Nations report on the Global Assessment of Biodiversity and Ecosystem Services revealed that three-quarters of the earth's land-based environment has been significantly altered by human actions. Land degradation has reduced the productivity of 23% of the global land surface, nearly $600 billion in annual global crops are at risk from pollinator loss and 100-300 million people are at increased risk of floods and hurricanes due to the loss of coastal habitats. In one glimmer of hope, the report emphasizes that in areas managed by indigenous peoples and local communities, these trends have been less severe or avoided entirely. Nonetheless, climate change threatens the survival of indigenous peoples around the world.
How can the land uses of indigenous and other communities help address the climate crisis, and what is needed to protect the ability of these communities to sustainably manage their lands and resources, and to adapt to the effects of global heating? This webinar aims to explore these questions.
Webinar on "The role of indigenous communities in reducing climate change through sustainable land use practices"
Date: Thursday, September 12, 2019
Time: 9:00 PM – 10:30 PM WIB
Organizations: Land Portal Foundation / Columbia Center on Sustainable Investment / Landesa – Rural Development Institute