HCM City seeks ways to curb CO2 emissions from vehicles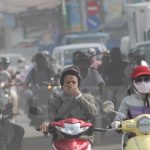 Air pollution in HCM City caused by vehicles has become even more serious than the level of pollution emitted by industrial zones, environmental experts say.
The amount of carbon dioxide (CO2) emissions in the city is estimated to be 38.5 million tonnes per year, making up about 16 per cent of the country's total. Of the amount, CO2 emissions from automotive exhaust account for 45 per cent. With such alarming figures, the city is seeking ways to urgently reduce CO2 emissions, particularly from automobiles and motorbikes.