Call to Action: #HackForBetterDays, a fully online, 30-day virtual hackathon across Asia Pacific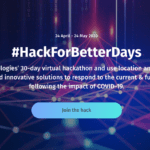 HERE, in partnership with IBM and many others is hosting #HackForBetterDays, a 30-day Asia-Pacific wide virtual hackathon for building web/mobile apps and interactive, informative maps to help communities with the challenges caused by COVID19. The hack kicks off on 24th April 5pm AEST. During the month, training and webinars will be provided, and there are cash prizes of up to $5000 USD on offer for the best solutions developed.
To join or more info, please visit the page.